Jul 27, 2022
MANITOBA OPERA RECEIVES CITY COMMUNITY SERVICE AWARD
On Friday, July 22, Mayor Brian Bowman honoured Manitoba Opera with an Organization Community Service Award in recognition of the company's 50th anniversary season. 
The City of Winnipeg Community Service Award was established by the Mayor's Office in the 1950s. This award is presented to give recognition to individuals or organizations of the City of Winnipeg, who through their dedication, have demonstrated excellence and achievement in any field of endeavor, benefitting in an outstanding manner the social, cultural, or economic well-being of their community.  
The presentation was made at a luncheon hosted by the Mayor's Office at City Hall. About 40 people were in attendance for the event and included members of the current and previous boards of trustees, staff, donors, sponsors, volunteers, artists, and supporters. 
Tenor James McLennan, accompanied by pianist Laura Loewen, kicked off the proceedings with a performance of "You are My Heart's Delight" ("Dein ist mein ganzes Herz") from the operetta, The Land of Smiles. 
Board of Trustees Chair, Judith Chambers and General Director & CEO, Larry Desrochers accepted the award on behalf of the organization.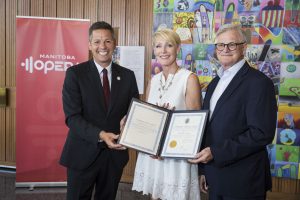 "We are honored to have the mayor's office recognize our good work in the community," commented Ms. Chambers in her address. "Manitoba Opera got its start when the late Justice A. Kerr Twaddle attended a production of Otello in Montreal in the 1967 and fell in love with the art form. He asked himself, as so many Winnipeggers who have accomplished great things to enrich our community do, why can't we have that here?  So, in 1969, he invited seven couples to his house to plan a fledging opera company in the middle of the prairies. With a further couple of years of planning, in 1971, the Manitoba Opera Association presented the Canadian Opera Company's touring production of Così fan tutte…  
Now, 50 seasons later, we walk in the shadows of these great pioneers.  We celebrate the vision they had for an opera company in the middle of the prairies, and we carry on the tradition of using the power of voice to share beautiful music and stories.  And all of you in the room today are part of this history of Manitoba Opera.  Like Kerr Twaddle, you've asked yourselves, why not opera in Winnipeg? And together, you've answered the question with your generosity, your artistry, your volunteerism, and your dedication.  So, I truly want to thank you for being with us today and thank you for your support." 
View Media Release