Aug 29, 2023
HOCKEY-PLAYING MEZZO JOINS ADMIN TEAM
Mezzo-soprano Ashley Schneberger is the newest addition to the company's administrative team, joining the Development Department last month in the position of Development & Grant Assistant.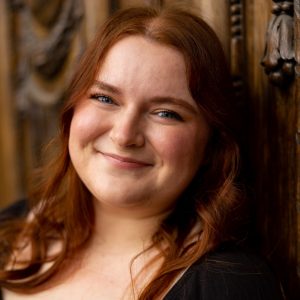 She will be assisting Tania Douglas, Director of Development, and Ashley Boychuk, Grants & Corporate Giving Manager, with prospect research, donor profiles, the endowment campaign and the Gail Asper Award Gala Reception, as well as delving into grant research and writing. 
Ashley grew up in Cochrane, Alberta (small town outside of Calgary), and got her Bachelor of Music in Vocal Performance at the University of Lethbridge. She moved to Winnipeg in 2020 and just completed her Master of Music in Vocal Performance at the University of Manitoba this April.  
She is the recipient of the 2023 Winnipeg Music Festival's Rosebowl Trophy and accompanying George H. Price memorial scholarship, as well as the Herbert and Audrey Belyea Trophy and scholarship.  
A musician through-and-through, Ashley's goal is to eventually perform with companies like Manitoba Opera. She's loved to sing and tell stories since she was young and can't imagine doing anything else.  
"Getting to be on stage and connect to a story is such a privilege, and I would love to continue to share those stories with audiences in the future," Ashley explains. "I'll be doing little gigs and shows around Winnipeg this upcoming year, so I'm very excited to get started and to keep growing as an artist." 
Last season, Ashley was a student ambassador and also worked on the company's social media in the spring as a result of the Association of Opera in Canada's federally funded Opera Artist Resiliency Program (OAR).  
"I loved getting to see the inner workings of an opera company," she says. "I think it is important to diversify your skills as an artist, and when I saw this opportunity, I thought it was the perfect chance to dip my toes into arts administration. I had so much fun working with the MO team last season, and the idea of being even more involved with the team, and helping to create beautiful, powerful, and meaningful art in the community was an offer I couldn't refuse."  
Reading is a passion of the young artist and she's set a goal this year to read 50 books. "I'm about 20 books in, so I've got some catching-up to do!" 
A big hockey fan, Ashley has played Canada's game since she was five and continued until she was 18.  
"I'm a big Calgary Flames fan (sorry Jets fans) and I love to go to games with my family." 
Ashley also loves to bake and has been told she makes some of the best brownies EVER. Her colleagues are looking forward to getting a chance to judge that for themselves! 
View Press Release
Jul 27, 2023
LI KEUR: THE HEART OF THE NORTH
THE STORY
In this historical, mystic opera, 21st century Joséphine-Marie, through a grandmother's story, is transported to 1870s Montana where she encounters an ancestor, the sharpshooter Josette, a runaway travelling with Riel and the last buffalo brigades. There she falls in love with the young, passionate, Louis Riel, in disguise, on the run from assassins.  
The pair confront jealousy, destiny, deprivation, and torment wrought by four shape-shifting Black Geese of Fate, but are comforted by ghost choruses of ancestors, the bison brigades, and the women of their peoples, as they try to salvage a nation and save themselves from total destruction in the burning heart of the continent of the 1870s.
THEMES 
"This opera re-places the Michif peoples and the kinship webs of the founding nationals, at the central continent, to the centre of the big stage while simultaneously redefining operatic form through an Indigenous world view of story," explains Li Keur's Suzanne Steele, librettist and storyteller.  
"Themes critical to the survival of the Métis/Michif peoples (and their kin) of the 19th century that will resonate with contemporary audiences include identity, environmental degradation, celebration, innovation, refugeehood, diaspora, and the consequences of love and idealism. While knowingly engaging with many of the tropes of opera, Li Keur, offers a fresh take on an old European artform, a take that, interestingly, may well represent opera's earlier iterations of it being an artform of the people." 
THE NAME 
Li Keur (pronounced Lee Cur) is translated to "the heart" in Michif, the language of the Métis peoples. The inspiration for "The Heart of the North" came from the diaries of Louis Riel.   
L'Esprit de Dieu m'a fait voir un quart plein de marchandises. Sur le fond du Quart étaient écrites les paroles suivantes: "Les entrailles du Nord." O mon Dieu! Accordez-moi, la grâce de conquérir le Nord et de Maîtriser tout ce qu'il a: donnez-moi les entrailles du nord. 

(The spirit of God revealed to me a crate full of merchandise. On the crate the following words were written: The heart [the guts /interior] of the North.
O my God! Give me the grace to conquer the north and master all within: give me the heart of the north.)

From the diaries of Louis Riel, translated by Dr. S.M. Steele      
View Press Release
Jul 27, 2023
AGM RECAP: 2022/23 SEASON CELEBRATED FIVE DECADES OF OPERA
The company announced at its 2022/23 Annual General Meeting (AGM), held both in person at the Centennial Concert Hall and livestreamed on Tuesday, July 11, that the year ending May 31, 2023 – the 50th season anniversary – was one of celebration, thanks, and a welcome return to two fully staged productions and a concert event with live audiences in attendance.  
"The 2022/23 season was a milestone season for Manitoba Opera, marking 50 years of making opera in our community," said Larry Desrochers, General Director & CEO. "We used our anniversary season to celebrate the past, acknowledging the many wonderful productions and people in our history; to look to the future, marking the advancements of the art form; and to thank the community by acknowledging those who have gone above and beyond to turn a fledging enterprise into one of Canada's most important regional opera companies.   
"We are deeply grateful to the opera community and all our supporters for their loyalty to Manitoba Opera as we recover from the ravages of the COVID-19 pandemic and continue our journey telling stories through music and song in the 21st century," commented Judith Chambers, Chair, Board of Trustees. "This past season has indeed been one of celebration but has also provided us with an opportunity to mark the milestones we have made and look forward to the new milestones to come. Manitoba Opera is recognized as a pillar of the Winnipeg arts community and the opera community nationally and that reputation is one on which we want to build as we enter this next phase."   
The 2023/24 Board of Trustees was also announced at the AGM. Members re-elected include Daniela Ignat, Maria Mitousis, Charlene Ord, Grant Suderman, and Lori Yorke. Returning trustees in mid-terms are Chair Judith Chambers, Flavia Fernandez Fabio, Dr. David Folk, Ray Karasevich, Lana Maidment, Terence Sakohianisaks Douglas, and Keith Sinclair. Nominated for the first year of a first two-year term were Sandy Chahal, Nupur Kumari, and John Pacak (see below for bios). 
After completing four full terms, Alex Robinson retired from the Board of Trustees. This was Robinson's second round as a trustee, having previously served from 1998 to 2006. As well, Paul Bruch-Wiens stepped down; he joined the board in 2019. 
Bethany Bunko, Communications Coordinator, was also recognized with a five-years of service plaque.   
View Press Release