Nov 23, 2020
MISSION ACCOMPLISHED FOR DR. MacEWAN
November 11 was a very special day for Dr. Douglas MacEwan and four lucky arts organizations. It marks the day that Dr. MacEwan not only completed on schedule, but surpassed, his "Walk for the Arts" challenge of walking 96 km in order to raise $96,000 for the arts!
In total, he walked 109 km and raised $124,107 (to date). This World War II veteran also celebrated his 96th birthday on Remembrance Day as well.
With Code Red pandemic restrictions in place, celebration plans were cancelled and Dr. MacEwan was accompanied by just family for his final walk.
"Dr. MacEwan has inspired us all with his audacious goal, his determination and grit, and his willingness to dig in and find a way to help something he cares deeply about," commented Larry Desrochers, Manitoba Opera's General Director & CEO, speaking on behalf of the four recipient organizations.
Donations raised include $100,000 from the anonymous sponsor of this challenge and $24,107 raised, to date, from individual donations. Funds will be split between Manitoba Opera (MO), Royal Manitoba Theatre Centre (RMTC), Royal Winnipeg Ballet (RWB), and the Winnipeg Symphony Orchestra (WSO).
"I am very happy to have reached my goal and to have inspired others to donate to the campaign," said Dr. MacEwan. "And to have been joined on my daily walks by so many artists and other hard-working members of our artistic community was such a treat!"
View Press Release
Sep 10, 2020
95-YEAR-OLD ARTS LOVER WALKING 96 KM TO RAISE $96,000 FOR FOUR LOCAL ARTS ORGANIZATIONS
Winnipeg arts lover, Dr. Douglas MacEwan, is soon turning 96, but nothing is slowing him down when it comes to supporting his favourite arts groups. He has taken on a challenge people half his age wouldn't even consider: walking one kilometer every day for 96 days in order to raise $96,000 to be divided evenly between Winnipeg's four major performing arts organizations – Manitoba Opera, Royal Manitoba Theatre Centre, Royal Winnipeg Ballet, and Winnipeg Symphony Orchestra.
Born in Ottawa, ON, this WWII veteran trained as a medical doctor specializing in radiology and moved to Winnipeg in 1966 to work at the HSC/University of Manitoba. He cares deeply about the arts in the city he has called home for years. When the pandemic hit and stages went black, he knew he wanted to help to ensure the footlights shine again and performers are able to return to the stage when the time is right.
"I wanted to do something to ensure that future generations, including my eight grandchildren and two great-grandchildren, grow up in a city with a thriving performing arts community," explains Dr. MacEwan.
An anonymous sponsor has agreed to donate $500 for every kilometer Dr. MacEwan walks, plus an additional $500 for each day he finds someone to walk with. Dr. MacEwan makes sure to take a selfie with his walking buddies, and his daughter, Eleanor, is assembling a book to commemorate the project.
By the time Dr. MacEwan finishes his challenge on November 11 – his 96th birthday – he will have raised a total of $96,000 for the performing arts in Winnipeg. As an extra incentive, if Dr. MacEwan completes the challenge, the sponsor has offered to round up the donation to $100,000.
"Dr. MacEwan is a very compassionate, caring individual and is an inspiration to us all," commented Larry Desrochers, Manitoba Opera's General Director & CEO, speaking on behalf of the four recipient organizations. "He has been a long-standing patron of all our organizations; he has been attending Manitoba Opera productions since 1972 when we were in our infancy. To take on such a challenge at any age, but certainly as a nonagenarian is truly remarkable and deserves our deepest respect. That he has chosen to do this for Winnipeg's arts community is very inspiring."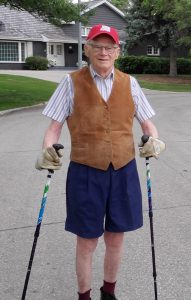 View Press Release
Aug 10, 2020
ARTISTS SELECTED TO PARTICIPATE IN COMPANY'S FIRST DIGITAL EMERGING ARTISTS PROGRAM ANNOUNCED
Manitoba Opera (MO) announced the names of the four applicants who were selected to participate in the company's first Digital Emerging Artists Program (DEAP). This four-week intensive online professional development program launched August 4. They are soprano Sydney Baedke (born in Medicine Hat, AB and currently residing in Toronto); mezzo-soprano Elizabeth Hoyt-Surdhar (born in Edmonton, AB and currently residing in Winnipeg); tenor Kaden Forsberg (born in Edmonton, AB and currently residing in Montreal); and baritone Nicholas Borg (born in London, ON and currently residing in Toronto).
The successful artists were selected from 48 applications received from Canadian emerging operatic artists between the ages of 18 and 35. The selection team was comprised of the four core faculty members: Tracy Dahl, Monica Huisman, Marion Newman, and John Tessier, all professional singers/voice instructors, and Manitoba Opera General Director & CEO, Larry Desrochers.
"Being selected as a digital emerging artist with Manitoba Opera has not only allowed for me to remain engaged with this industry and my growth as a young singer during this difficult time, but has also presented an invigorating opportunity to contribute to what opera will look like in 2020," explains participant Sydney Baedke. "It is inspiring to be involved in Manitoba Opera's digital artistic initiative, and I'm so grateful for this new, exciting platform."
Nicholas Borg added, "Getting the opportunity to work with the Manitoba Opera team means that even in spite of the pandemic I can continue my artistic development with incredible mentors. The program's focus on digital creation means that we will be able to share our art with a wide audience in innovative ways."
The program of daily educational and professional development activities includes voice lessons, masterclasses, and webinars on topics such as language coaching, diction, life skills, and career development. As well, each participant will exit the program with a professionally recorded audition video to be used to help launch the next phase of their careers.
"In this time of uncertainty for everyone in the arts, young and established, MO has turned their focus to helping young artists. This amazing program is a renaissance in very bleak times for the performing arts. If we don't support these young singers through this period, it will be a very different arts world at the other end," explains Monica Huisman, core faculty member. "I for one couldn't be more proud of how proactive and leading edge MO has been during this time in creating this nurturing, informative, motivating, and paid opportunity for these amazing young singers."
Manitoba Opera's Digital Emerging Artists Program is supported by the RBC Emerging Artists Project.
The RBC Emerging Artists Project supports organizations that provide meaningful opportunities to advance artists' career trajectories. The Project has supported over 24,000 artists since its inception.
"We're thrilled that RBC has come on board to help support the important program for emerging artists.  Perhaps now, more than ever, the next generation artists need the support of programs like the RBC Emerging Artist Project as they look toward building their future careers," said General Director and CEO, Larry Desrochers.

View Press Release