Nov 16, 2019
COMPANY PREMIERE OF SUSANNAH OPENS 2019/20 SEASON
COMPANY PREMIERE OF SUSANNAH OPENS 2019/20 SEASON
NOVEMBER 23, 26, 29
A Story of Survival and Standing Up for Your Truth
The moving story of a young woman's stand for truth against the hypocrisy of her secluded community and the preacher who has designs on more than just her soul, opens Manitoba Opera's 2019/20 season. The company premiere of Susannah, by the esteemed American composer Carlisle Floyd, will be presented at the Centennial Concert Hall Saturday, November 23 (7:30 pm), Tuesday, November 26, (7 pm), and Friday, November 29 (7:30 pm). Susannah will be sung in English with English projections.
For tickets call 204-944-8824, go online at mbopera.ca, or in person at the MO Box Office, lower level, Centennial Concert Hall (9:30 am – 4:30 pm, Monday to Friday).  Seniors, students, and youth discounts are available.
Susannah is the most-performed American opera after Porgy and Bess. This "powerfully emotional piece is among the finest achievements in American opera." (Nashville Music Scene 2015).
Floyd, the son of the southern Methodist Minister, reset the Apocryphal Bible story of Susanna and the Elders to rural Tennessee during a revival meeting. Floyd's music for Susannah is rooted in Appalachian folk melodies, Protestant hymns, and traditional classical music with hints of Copeland and Bernstein. The opera features memorable songs and folksy arias like "Ain't It a Pretty Night" and "The Trees on the Mountains."
"With themes of intolerance, religious hypocrisy, social harassment, and alienation, this gripping drama with unforgettable music continues to be so very poignant over sixty years after its debut," commented Larry Desrochers, Manitoba Opera General Director & CEO. "Floyd's opera is thoroughly American and is a very relatable work."
View Press Release
Oct 29, 2019
The English of the Appalachian Area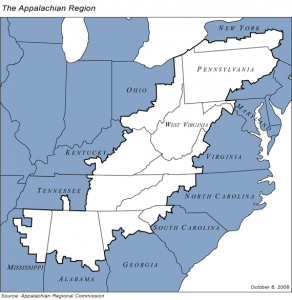 While all of the text in Susannah is in English, it may sound different than the English you speak. Susannah is written in a verismo style, meaning that the characters, language, and plot are rooted in reality as much as possible – everything in the opera must be believable. Operas in this style often employ colloquial language, and Susannah is no exception. To create a believable opera set in America's Deep South, Carlisle Floyd chose words and a dialect that are uniquely Appalachian. Here are some of the more noticeable characteristics of this dialect.
Vowels are formed towards the back of the mouth rather than the front: "can't" sounds like "cain't"; "get" sounds like "git"; "forgive" sounds like "fergive."
The "s" sound that ends some words may be replaced with an "n" sound: one might say "her'n" instead of "hers."
Participles and gerunds ending "-ing" are pronounced as though they ended "-in,"
as in huntin' or preachin'.
The letter "a" is often added as a prefix to verbs; such as  a-bathin', aspyin', or a-prayin'.
As with any dialect, some words have a colloquial usage. Examples in Susannah include:
Afore – before
Allers – always
Brickbat – a piece of brick; also an insult
Chitlins – fried pig intestines
Crick – creek
Jaybird – a blue jay; also someone who talks too much
Jest – just
Out'n – out of
Mighty – very
Mite – small amount
Plum – completely, absolutely
Reckon – to suppose
Seed – saw
Spell – length of time
Sum'mers – somewhere
They's – there is or they are
Twarn't – it wasn't
Varmint – vermin
Floyd's mastery of this dialect is playfully displayed in the silly "Jaybird" song in Act 1 of the opera, into which he sneaks some clever wordplay:
"Oh, jaybird sittin' on a hick'ry limb,
He winked at me an' I winked at him.
I picked up a brickbat
An' hit him on the chin.
'Looka here, little boy, don't you do that agin!'"
Taken literally, it could describe an easily imagined and somewhat comic scene; a blue jay sitting on a branch catches a youth's attention, and the youth throws a rock at it. Startled, the bird squawks angrily at the boy. Read a bit differently, knowing that in the Appalachian dialect a "jaybird" is someone who talks too much, and a "brickbat" is an insult, it describes an interaction between a youth and a person who is heckling him.
View Press Release
Jul 9, 2019
MATCHING GIFTS CHALLENGE CATAPULTS 2018/19 SEASON TO UNPRECEDENTED FINANCIAL SUCCESS
Manitoba Opera (MO) announced this evening at its 2018/19 Annual General Meeting (AGM), held at the McKim Building in Winnipeg, that the 2018/19 season, which ended May 31, 2019, was the company's most financially successful season in its 46 years of operation, resulting in the elimination of a decades' old accumulated debt.
The company posted an operating surplus of $86,312 on a budget of $2,585.965. An additional $374,755 was raised towards the elimination of the debt of $450,652, accumulated since the 1980s. MO's accumulated debt had reached $654,000 by year end June 30, 2000.
The debt was retired by a matching gifts challenge issued by a donor who committed $150,000 to the campaign. In total, more than 190 individuals, corporations, foundations, and governments rose to the challenge with gifts from $5 to $150,000.
View Press Release