Aug 29, 2023
HOCKEY-PLAYING MEZZO JOINS ADMIN TEAM
Mezzo-soprano Ashley Schneberger is the newest addition to the company's administrative team, joining the Development Department last month in the position of Development & Grant Assistant.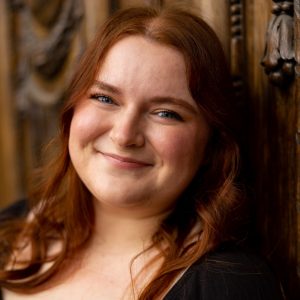 She will be assisting Tania Douglas, Director of Development, and Ashley Boychuk, Grants & Corporate Giving Manager, with prospect research, donor profiles, the endowment campaign and the Gail Asper Award Gala Reception, as well as delving into grant research and writing. 
Ashley grew up in Cochrane, Alberta (small town outside of Calgary), and got her Bachelor of Music in Vocal Performance at the University of Lethbridge. She moved to Winnipeg in 2020 and just completed her Master of Music in Vocal Performance at the University of Manitoba this April.  
She is the recipient of the 2023 Winnipeg Music Festival's Rosebowl Trophy and accompanying George H. Price memorial scholarship, as well as the Herbert and Audrey Belyea Trophy and scholarship.  
A musician through-and-through, Ashley's goal is to eventually perform with companies like Manitoba Opera. She's loved to sing and tell stories since she was young and can't imagine doing anything else.  
"Getting to be on stage and connect to a story is such a privilege, and I would love to continue to share those stories with audiences in the future," Ashley explains. "I'll be doing little gigs and shows around Winnipeg this upcoming year, so I'm very excited to get started and to keep growing as an artist." 
Last season, Ashley was a student ambassador and also worked on the company's social media in the spring as a result of the Association of Opera in Canada's federally funded Opera Artist Resiliency Program (OAR).  
"I loved getting to see the inner workings of an opera company," she says. "I think it is important to diversify your skills as an artist, and when I saw this opportunity, I thought it was the perfect chance to dip my toes into arts administration. I had so much fun working with the MO team last season, and the idea of being even more involved with the team, and helping to create beautiful, powerful, and meaningful art in the community was an offer I couldn't refuse."  
Reading is a passion of the young artist and she's set a goal this year to read 50 books. "I'm about 20 books in, so I've got some catching-up to do!" 
A big hockey fan, Ashley has played Canada's game since she was five and continued until she was 18.  
"I'm a big Calgary Flames fan (sorry Jets fans) and I love to go to games with my family." 
Ashley also loves to bake and has been told she makes some of the best brownies EVER. Her colleagues are looking forward to getting a chance to judge that for themselves! 
View Press Release