Jun 21, 2022
Indigenous Opera Artist Spotlight: Camryn Dewar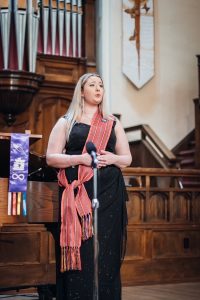 Camryn Dewar (she/her) is a passionate and versatile soprano from Stony Mountain, Manitoba. She recently graduated from the University of Manitoba with a Bachelor of Music (Vocal Performance), studying under Mel Braun. This fall, she is pursuing a Master of Music at Montclair University in New Jersey under mezzo-soprano Barbara Dever.
Camryn is a proud member of the Manitoba Métis Nation and aspires to share the stories of Canadian Indigenous women through opera and theatre. She has incorporated Indigenous activism into her singing, performing art songs and opera by Canadian Indigenous composers professionally, as well as at her university. Representative roles include La Metisse in the American premiere of Li Keur: Riel's Heart of the North (Northern Lights Music Festival Opera), "Native Girl" in Missing (UofM Opera), and Chorus Section Leader in Li Keur: Riel's Heart of the North (Winnipeg Symphony Orchestra). She is also an Indigenous cultural advisor at Opera NUOVA this season, and an Indigenous youth representative on the Manitoba Opera's Community Engagement Committee. Camryn's long-term goal is to pursue opera professionally on an international scale, sharing the stories of Indigenous women through various artistic mediums. She hopes to explore opera, musical theatre, and composition through the course of her career, one day creating her own work, amplifying the perspectives of Métis women. She will also pursue citizen artistry and activism to help make classical art forms more inclusive for people of all cultures, abilities, sizes, sexualities, genders, and socioeconomic classes. By volunteering for multiple opera company boards as an Indigenous representative, she is helping to revitalize opera by assisting in accessibility and marketing to younger audiences, incorporating Indigenous teachings, and cultural advising on treatment and processes regarding Indigenous subject matter.
A lover of many musical genres, Camryn's main passions are opera and musical theatre, with role highlights including Tisbe in Rossini's La Cenerentola (Northern Lights Music Festival Opera), Jo in Little Women (U of M Musical Theatre) and Mother Abbess in The Sound of Music. Upcoming roles include Anna Gomez in The Consul by Gian Carlo Menotti at the Opera NUOVA Emerging Artist Intensive, and Suor Dolcina in Puccini's Suor Angelica at the Bel Canto in Tuscany Young Artist Program in Greve, Italy in July 2022.
An avid instrumentalist and multifaceted performer, Camryn plays piano, guitar, alto saxophone, soprano saxophone, and bagpipe chanter, and she performs in genres such as rock, jazz, Celtic, folk, theatre, dance, and film. Aside from music, she works in the film industry on crew as a Production Assistant, where she recently worked on Sean Penn's film Flag Day (2021). She is also deeply passionate about equity, diversity, and inclusivity, and is an intersectional feminist and activist for environmentalism, anti-racism, ableism, and Indigenous rights.
Winner of many academic and musical awards, she was one of ten young people country-wide to be accepted into the Association of Opera in Canada's Opera Fellowship, and has received the Richard and Kathleen Dunlop Litch Music Award, Louis Riel Bursary, MSBI Indigenous Bursary Fund, Desautels Faculty of Music Scholarship, and Hugo Memorial Fund Music Scholarship. She has also received awards for her academic writing, including first place in the English Speaking Union of Canada Prize for Best First Year English Essay, and the Aikens English Essay Scholarship.
Camryn would like to thank mentors Rebecca Cuddy and Marion Newman for advising and supporting her on her journey to pursuing Indigenous opera and classical music. She is excited for the opportunities ahead!
View Media Release