Sep 10, 2020
95-YEAR-OLD ARTS LOVER WALKING 96 KM TO RAISE $96,000 FOR FOUR LOCAL ARTS ORGANIZATIONS
Winnipeg arts lover, Dr. Douglas MacEwan, is soon turning 96, but nothing is slowing him down when it comes to supporting his favourite arts groups. He has taken on a challenge people half his age wouldn't even consider: walking one kilometer every day for 96 days in order to raise $96,000 to be divided evenly between Winnipeg's four major performing arts organizations – Manitoba Opera, Royal Manitoba Theatre Centre, Royal Winnipeg Ballet, and Winnipeg Symphony Orchestra.
Born in Ottawa, ON, this WWII veteran trained as a medical doctor specializing in radiology and moved to Winnipeg in 1966 to work at the HSC/University of Manitoba. He cares deeply about the arts in the city he has called home for years. When the pandemic hit and stages went black, he knew he wanted to help to ensure the footlights shine again and performers are able to return to the stage when the time is right.
"I wanted to do something to ensure that future generations, including my eight grandchildren and two great-grandchildren, grow up in a city with a thriving performing arts community," explains Dr. MacEwan.
An anonymous sponsor has agreed to donate $500 for every kilometer Dr. MacEwan walks, plus an additional $500 for each day he finds someone to walk with. Dr. MacEwan makes sure to take a selfie with his walking buddies, and his daughter, Eleanor, is assembling a book to commemorate the project.
By the time Dr. MacEwan finishes his challenge on November 11 – his 96th birthday – he will have raised a total of $96,000 for the performing arts in Winnipeg. As an extra incentive, if Dr. MacEwan completes the challenge, the sponsor has offered to round up the donation to $100,000.
"Dr. MacEwan is a very compassionate, caring individual and is an inspiration to us all," commented Larry Desrochers, Manitoba Opera's General Director & CEO, speaking on behalf of the four recipient organizations. "He has been a long-standing patron of all our organizations; he has been attending Manitoba Opera productions since 1972 when we were in our infancy. To take on such a challenge at any age, but certainly as a nonagenarian is truly remarkable and deserves our deepest respect. That he has chosen to do this for Winnipeg's arts community is very inspiring."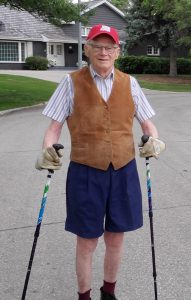 View Media Release