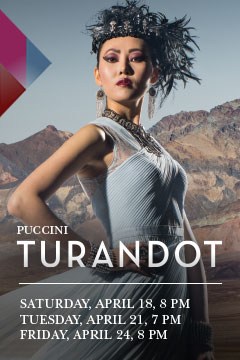 A Kiss to Die For
One of opera's greatest hits; filled with breathtaking pageantry.
The Synopsis
In Ancient Peking, the beautiful, icy Princess Turandot announces that she will marry the man who can solve her three riddles, but gravely punish those who cannot. Heads roll until the arrival of a clever prince who is determined to win over the princess or die trying. He solves her trio of challenges and then offers Turandot his life if she can solve the riddle of his name. Will true love be enough to soften the vengeful princess' heart?
Puccini's spectacular masterpiece features one of the most profoundly beautiful scores in all of opera.
Music
Giacomo Puccini
Libretto
Giuseppe Adami and Renata Simoni
Sung in Italian with projected English translations.
Running time is approximately 2 hours, 30 minutes.