Mar 31, 2023
When Rosalind Dick thinks about Manitoba Opera, she thinks about music. But she also thinks about people. "It's the people who make the opera," according to Rosalind, known to her many friends as Roz.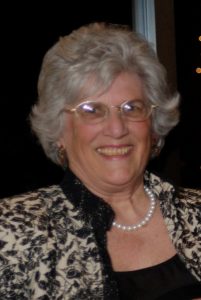 A music teacher who is now retired, Roz has been a long-time supporter of Manitoba Opera as a volunteer, board member, and donor. "I have good memories, and I have really good friends I've made over the years," Roz says. "We all loved opera and Manitoba Opera, but the bond was working together to bring it to the stage." 
Roz's connection to opera began with her mother, Berythe Birse, a renowned music teacher and long-time member of the Women's Musical Club of Winnipeg. In the 1950s, Berythe produced chamber operas by composers such as Benjamin Britten and Gian Carlo Menotti. "I have a telegram somewhere in the basement from Menotti congratulating my mother for staging the first performance in Canada of Amahl and the Night Visitors with the Wednesday Morning Musicale," Roz relates. 
Both mother and daughter became involved with Manitoba Opera through the volunteer Guild. "Manitoba Opera has been blessed with wonderful volunteers all along the way, who gave so much of their time and expertise," Roz states.   
That sense of commitment was invaluable when it came to the Opera in the Schools program. In the late 1970s, Manitoba Opera was looking to do educational outreach, and Roz and her mother, who were both involved in music and teaching, were a natural fit. "The two of us got some people together in our living rooms to talk about how we could get an educational program going," Roz says. "In this day and age, you'd call it a focus group, but back then it was just our friends." 
According to Roz, the Opera in the Schools program "was important as outreach, but also as a platform for aspiring artists. It gave opportunities to artists like Tracy Dahl, Richard Margison, and Michael Cavanagh who all went on to bigger things. And although Phillip Ens never performed in a School production, his audition springboarded his 1984 MO debut."  
Roz also loved the way Guild volunteers were up for anything. "The ladies would get right down to it," she remembers. "They fed the casts, they picked artists up at the airport and drove them around, they did dishes.  
"They got things done. I mean, these people just worked," Roz says. 
Roz kicked off the Pass the Hat program to collect donations during performances. She also has fond memories of putting the "fun" into fundraising with events with like "Puccini and Pizza" and "Fur Fantasy." 
As well as her work with the Guild, Roz served on the Board from 1986 to 1997, with a stint as president from 1993 to 1995. Again, it's the people who stand out for her. "Reeh Taylor was a wonderful president, a real Renaissance man, and so knowledgeable," Roz recalls. Another president, Jim Astwood, an accountant by training, "knew where we were financially at any moment, right down to the penny. 
"When I was board president, I always went to every performance, and I would stand in the foyer just to hear what people had to say. I was phoning every morning to say, 'Where are our ticket sales at?' 
"You talk about a 'working board,' and we were a working board, no question. I couldn't get over how hard everybody worked," Roz says. "But we also had a good time. There was a time when the board used to entertain the cast after the first night of the production. We would have dinner, and we would have fun, and we would get to know the artists."  
For Roz, her love of opera is rooted in her musical background which began in her childhood.   
"With opera, I think I respond more to the music than I do to the story," she suggests. "I have so many friends who can just visualize the garret in Bohème and Mimi dying, but for me it's the music. 
"Musically, you have the human voice, which is the first instrument, together with the orchestration and the harmonies. That's hard to beat."  
Roz believes Manitoba Opera's role in the community is crucial because it brings the world to our province – she recalls glorious recitals by Kathleen Battle, Dame Kiri Te Kanawa, and Samuel Ramey – and it also brings our province to the world. 
"We have been able to give opportunities to our homegrown and resident talent," Roz explains. She remembers when the late Bramwell Tovey, then WSO director, debuted as an opera conductor with MO in 1984. Or the time international conductor Imre Palló stopped a rehearsal after Tracy Dahl had performed and announced to the orchestra: "Ladies and gentlemen, you will never hear this sung better." 
Looking back at decades of involvement with Manitoba Opera, Roz recalls a lot of hard work, but also a lot of camaraderie. As she says, "When you're working with other people, you have fun."  
Caption: Rosalind Dick (centre), with Judith Chambers, President, Board of Trustees and Larry Desrochers, General Director & CEO, was recognized for her work as a Board Chair at the La Cenerentola Opening Night Dinner in November 2022. Photo: Leif Norman