Apr 28, 2023
For dedicated opera lover Kurt Schwarz, volunteering is a way of putting feeling into action. "I wanted to spread the word about Manitoba Opera," he explains. "I wanted to really encourage people to get involved, and I did that by getting involved myself. 
"I'll do whatever it takes to promote opera within our city and province," Kurt says. "That's the driving force behind my volunteer commitment." 
An avid fan of the art form for over 30 years―as with so many Canadian opera buffs, his love affair started with listening to Saturday Afternoon at the Opera on CBC radio―Kurt began volunteering with Manitoba Opera 12 years ago.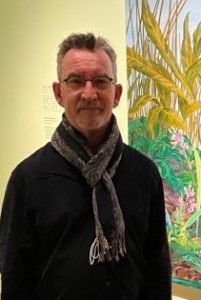 As someone who's passionate about the work of Richard Wagner, he agrees with the composer's evaluation of opera as "the total work of art." For Kurt, "there's the singing, the music, the acting, sometimes even dance. There's the costumes and sets. It's an extravagant art form, really." 
Kurt appreciates the opportunity to see live opera here in Winnipeg, but for him it's not just the performances. He likes to read up on his favourite operas, digging into historical contexts and thematic connections, and he's also interested in all the programming Manitoba Opera does around the major productions. "I really think Manitoba Opera has done a great job in showcasing opera and making it accessible to the general viewing public," Kurt says. "I like the way our opera company invites people into the art form by doing workshops and lectures that help people deepen their appreciation." 
Kurt is always happy to see homegrown singers on stage. "We have a lot of talent in the province, when you think of the voice programs at the Universities of Manitoba, Brandon, and Canadian Mennonite University," he points out. "It's good to see local people performing like Lara Ciekiewicz or Andriana Chuchman or Tracy Dahl."  
But he's also been dazzled by rising international stars. One high point for Kurt was seeing Angel Blue as Violetta in the 2018 production of La Traviata. "I remember just being blown away by her stage presence and her voice and realizing, wow, she's something amazing," Kurt recalls.  "And then about half a year ago, she played the same role at the Met, and you realize that we were on to something good." 
Kurt, who is part of a spiritual care team at a Winnipeg hospital, also finds the experience of opera connects to his work. "Sometimes health-related themes come up in operas like La Traviata or La Bohème, these poignant moments of life and death. 
"Somehow, the art form helps me to understand and appreciate the poignancy of the moment, the special gift of the moment. In that way, it helps me do my work."  
Thinking about the importance of opera in his life, Kurt also brings up his interest in mindfulness and meditation. For him, this really comes up when listening to Wagner's longer works or hypnotic Philip Glass operas such as Akhnaten and Satyagraha. As Kurt relates, "I quiet myself and practice a form of mindfulness, bearing witness to what I encounter and how it makes me feel from moment to moment."  
As Manitoba Opera celebrates its 50th anniversary, Kurt is interested to see what comes next. As someone who regularly volunteers at Student Night at the Opera (dress rehearsal), he's happy to see a new generation getting excited about the art form he's loved for so long. "I'm seeing a lot more young people getting involved in the company, a lot more young people attending the opera," he says.  
"There's a growing sense that opera's cool."