Oct 25, 2022
For five decades Manitoba Opera has touched the lives of thousands through music and song, creating memories that last a lifetime. Throughout our 50th anniversary season, we will be sharing just some of these wonderful stories and personal recollections. This instalment features lyric coloratura soprano Nikki Einfeld who had her professional opera debut with the company.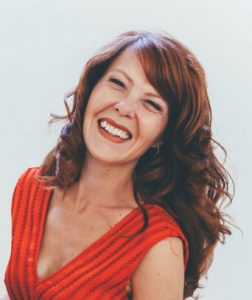 Lyric coloratura soprano Nikki Einfeld has been based in California for more than two decades, as a former Adler Fellow and Merola alumna with the San Francisco Opera. But she's a "born and raised Winnipegger," she says, and she still thinks of Manitoba Opera as her home company.
"The support I've received from Manitoba Opera, over the years and throughout my career, is incredible," Nikki explains. "It's always been great to return home. Even though it's been over 20 years since I lived in Winnipeg, when I come back, I'm not treated as a guest performer. I'm treated as family."
Nikki got her first exposure to classical music and opera through her grandparents. "They had a lot of old records and one of those old table record players, where you open the lid," she recalls. In the late 1990s, she studied theatre and music at the University of Manitoba and was able to work intensively with Tracy Dahl. Her first experience with Manitoba Opera was as a member of the opera chorus.
Manitoba Opera also gave Nikki her professional opera debut. Just as she was finishing her undergrad studies, she was invited to sing the role of Papagena in The Magic Flute. She credits Larry Desrochers, General Director & CEO, with making the company an incubator for local artists. "Larry has been extraordinarily instrumental in finding young talent in Winnipeg and Manitoba and really exploring that talent, by giving people their debuts and also the opportunity to experiment with roles."
Nikki also appreciates the warmth of the company, which extends that "friendly Manitoba" feel to the opera world. "The company is really good at making people feel comfortable and feel at home, and they've done that for many singers who've come through," she suggests.
"When I started singing with Manitoba Opera, I started out with this group of other Canadian singers, like Gregory Dahl and Stuart Howe, and we got really, really close as colleagues," Nikki relates. "Larry saw that right away and crucially started bringing this group back together for other operas. To work with a couple of people multiple times not only lets you establish collegial friendships, it also leads to a really great stage chemistry."
Nikki sees a lot of Manitoba Opera's success being rooted in Winnipeg's vibrant and varied arts scene. "Because opera is a melting pot of all these different arts, it requires the help and artistic vision of many different artists. Putting on an opera really takes advantage of all that Winnipeg has to offer.
First of all, we have the Winnipeg Symphony Orchestra, we have the Royal Winnipeg Ballet. We have lighting design, sound design, set designers, the backstage crew," Nikki says. "There are so many different people who work in the arts community in Winnipeg who have to come together to make this grand performance."
Nikki has sung in Manitoba Opera productions of Don Giovanni, L'elisir d'amore, Die Fledermaus, The Barber of Seville, and most recently Of Mice and Men―the first time she "got to show off her contemporary chops" to Winnipeg audiences.  Perhaps her favourite Manitoba Opera role, though, is Marie in The Daughter of the Regiment, "because it's a comic opera in the way it's presented, but the role of Marie really goes through this emotional journey. You get this other side of Donizetti, with his more serious writing intertwined with the overall comic aesthetic of the piece."
For Nikki, it's important that Manitoba Opera, like so many companies, is working to make opera more accessible to a new generation, "so when you say the word 'opera,' people don't picture a lady with horns on her head," she jokes. Far from being elitist, opera has "a lot of stories about people who have suffered poverty and loss," Nikki suggests. And as with Manitoba Opera's recent modern-dress staging of Don Giovanni, in which the title character becomes an entitled, predatory celebrity, Nikki is interested in the ways opera can "bring in older stories and show audiences they can be updated, they can reflect contemporary issues."
"Some people feel opera is inaccessible, or it's in a different language, or it seems too serious," Nikki adds. "But when people are given the opportunity to see that opera is really just a portrayal of people, a connector of emotions and situations, they realize we can all relate in a certain way, we can all find this throughline."
"To be able to come together in a live performance and share with audience members and share with performers is an overwhelming experience," Nikki believes. "It's something we can all share and learn from and experience together, and it's something Winnipeggers embrace."
Image Above
Marie in The Daughter of the Regiment has been one of Nikki's favourite MO roles thus far. Seen here in the 2012 production. Photo: R. Tinker