Dec 12, 2022
This instalment features Al Simmons, Manitoba's favourite musical genius who has loved opera almost as long as he's loved his wife.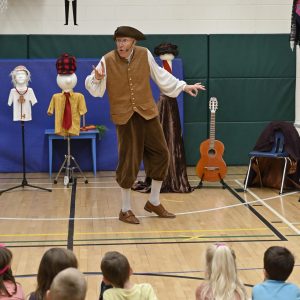 When Juno Award-winning performer Al Simmons was growing up in Anola, Manitoba, his family listened to all kinds of music. Now known for his inimitable blend of ingenious gadgets, wacky humour, and wonderfully preposterous songs, he recalls his first exposure to opera was―no surprise here―essentially comic. "My dad would every now and then break out and sing, 'Toreador, don't spit on the floor, Use the cuspidor, that's what it's for.'" 
So in 2009, when Manitoba Opera General Director and CEO Larry Desrochers called and asked if he wanted to have some fun bringing opera into schools, Al jumped at the opportunity.  
"We both decided The Barber of Seville would be the one to do," Al relates.  
He was overwhelmed by the help and support he got from Manitoba Opera. "It was an amazing process," Al says. "They had so many resources." As he studied different performances of the opera and pored over a word-for-word translation, he realized, "It was so darn funny. Bugs Bunny got it right. 
"I picked the tunes I thought would work, and then rejigged the lyrics so they could be understood now, and I put in current references so that the themes of the songs matched what was on the hit parade." 
The result was The Barber of Seville as Styled by Al Simmons, a condensed, kid-friendly version of the popular comic opera, in which Al―with the help of some puppets―plays all the characters. Since the show debuted 13 seasons ago, Al has toured all of Manitoba for Manitoba Opera and as far as Detroit, North Carolina, and Kansas.  
During the COVID pandemic, Manitoba Opera commissioned Al to transform the show into a one-hour video, a huge help for locked-down teachers and students. 
"I'm not an opera singer," Al admits. "I'm there to tell stories. I'm singing in English so the kids can understand. And they're laughing. And the music itself is funny―that's why they use it in cartoons―but it's also dramatic and thrilling."  
Al is amazed at how kids respond to the opera and connect it to their own experiences. For them, "The story is basically about bullying," Al suggests. "They see characters bullying Rosina. They pick up on these things."   
He gets a lot of ideas from this audience interaction. "It was a teacher in North Carolina that suggested that Adele's 'Rumour Has It' had the same theme as Rossini's 'Start A Rumour,'" Al says. "And it was a student in Winkler who said that Rosina could sing 'Call Me Maybe.'"  
When Al performs for students, "I like to start at the beginning with what opera was back then," he explains. "I'm wearing period clothing, but I tell the kids it wasn't a costume in those days, it was the latest style. And the music was the latest music, the music that people loved."  
For Al, his experience bringing The Barber of Seville into schools really underlines the populist roots of the art form. "If you go back to Rossini's time, people used to come to the opera with a picnic and a bottle of wine, and they'd be talking during the opera." 
Al and his wife, Barb, may not take wine to Manitoba Opera performances, but they do like to bring someone who's never seen live opera. "And more often than not, they say, 'I wouldn't have imagined it would be like that,'" Al says. 
As a multihyphenate himself, Al loves all the artistic components that go into a Manitoba Opera production. "You hear the entire symphony and the singers singing without amplification. There are the sets, the lighting, the costumes, the props. There's just so much going on there.  
"And there's the theatrics. The singers aren't just standing there and belting out songs. They're delivering the message by acting it out as well.  
"There's so much there for me to like, especially if it's a comedy," Al adds. His favourite opera remains The Barber of Seville, but he also loves a good tragedy. "At the end, everybody's dead," he says. "They're leaping off castle walls. It's so dramatic and so amazing to watch." 
Manitoba Opera has been a big part of his and Barb's history, Al says, from their early dating days right up to this season's La Cenerentola. "Has it only been 50 years? My wife and I first met 52 years ago," he says with a laugh. "You mean there was no opera when we first met?  
As Manitoba Opera heads into its sixth decade, Al just hopes that years from now, when the company puts on another production of The Barber of Seville, some of his former audience members will say, "I saw Al Simmons come and do this opera at school, and it was funny. So, let's go and see it because I loved that Lizzo part. 
"And then they'll find out Lizzo wasn't in it."