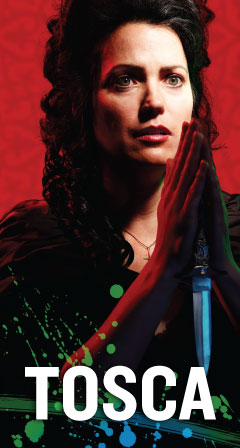 She lived for art and died for love.
The Synopsis
In Napoleonic Rome of 1800, Floria Tosca, a celebrated opera singer, seduces all with her voice, but loves only one man, Mario Cavaradossi, a painter. This fills the sinister Baron Scarpia, the Chief of Police, with jealousy.
Cavaradossi is hiding a political fugitive and Tosca is drawn into a web of danger and deceit by Scarpia, who abuses his power to force the passionate singer to betray her lover's secret. When Cavaradossi is imprisoned and faces death, Tosca will stop at nothing  to save him. She has her revenge on Scarpia, but realizes too late that she has been double-crossed.  
Sung in Italian with projected English translations.
Music by Giacomo Puccini
Libretto by Luigi Illica and Giuseppe Giacosa
Directed by Valerie Kuinka
Conducted by Tyrone Paterson
Based on Victorien Sardou's drama, "La Tosca"
Running Time: 2 hours 40 minutes