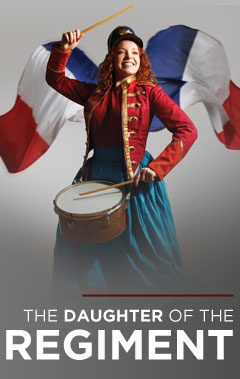 Mix together a large helping of esprit de corps, a dash of slapstick antics, some catchy melodies, two handfuls of high Cs, and one energetic tomboy. The result? A laugh-filled, toe-tapping opera baked to perfection!
The Synopsis
Marie, a feisty orphaned tomboy gives the French soldiers who raised her a scare when she falls in love with Tonio, a Tyrolean peasant. When her noble birthright is discovered, she is taken away from her beloved regiment to have a "proper" upbringing and subsequent proper marriage. Just in time, the regiment rides to the rescue, Marie and Tonio are reunited, and love prevails over privilege.
Music by Gaetano Donizetti
Libretto by Jules-Henri Vernoy De Saint-Georges and Jean-Francois Bayard
Sung in French with English dialogue and projected English translations.