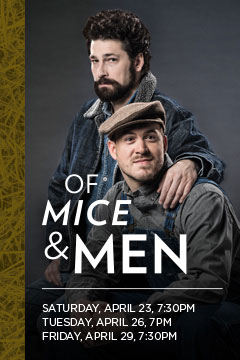 A Manitoba Opera Premiere of a Literary Classic
A faithful retelling of one of America's most celebrated works of literature by one of America's most celebrated composers.
Synopsis
In 1930's California two ranch workers – George and Lennie – travel the countryside from job to job, but hold fast to the dream of one day owning a piece of land. However, when fate forces this unlikely pair down a different path, they must say goodbye to their dream. A heartbreaking testament to the bonds of friendship.
Music
Carlisle Floyd
Libretto
Carlisle Floyd, based on the novella and play by John Steinbeck
Sung in English with projected titles.
Running time is approximately 2 hours.