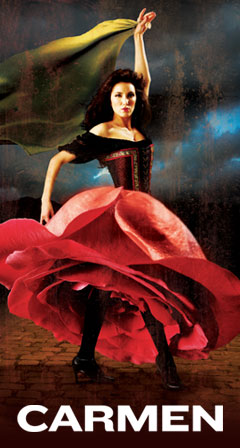 Opera's favourite bad girl is back in town and sparks will fly.
A sensational story filled with seduction, jealousy, and deceit.
The Synopsis
The soldier Don José falls in love with Carmen, the Gypsy temptress, and allows her to escape as he takes her to prison. In order to be with her, José deserts his regiment, his sweetheart, and even his dying mother and joins her band of smugglers. As his life crumbles, Carmen begins to tire of him and her wandering glance turns to the swaggering bullfighter. Her fate is sealed when José, wracked with jealousy, realizes she will never be his. This passionate, tragic tale features one of opera's most intriguing characters, the sensuous cigarette girl who tempts fate when she spurns her lover for a celebrated matador.
Sung in French with English translations projected above the stage.
Music by Georges Bizet
Libretto by Henri Meilhac and Ludovic Halévy
Directed by Rob Herriot
Conducted by Tyrone Paterson