The Telephone/La voix humaine 
Opening Night Dinner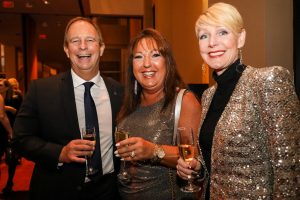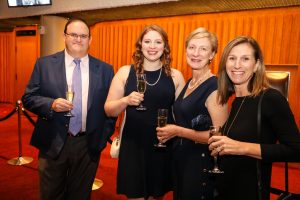 Guests enjoying themselves at the Susannah Opening Night Dinner 2019. Photo: Leif Norman.
Friday, November 5, 5:30 pm
Piano Nobile, Centennial Concert Hall
Tickets $150
Includes :
Complimentary Reserved Underground Parking
Pre-reception (sparking wine)
Dinner on Piano Nobile
---
Enjoy a French-inspired Three-Course Dinner
Catered by Bergmann's on Lombard;
Wine Sponsored by Manitoba Liquor Marts
Salad
Salad of Mixed Bistro Greens
English Cucumber Ribbon/Shaved Radish
Goat Cheese Pate w/Herb Crisp
Tomatoes/Dijon Vinaigrette
*~*~*
Entrée 
Choice of 
Red Wine Braised
Boneless Beef Short Rib Bourguignon
w/Hickory Smoked Bacon/Mushroom & Onion
Truffle infused Mashed Potatoes
& Fresh Fall Market Vegetables
*~*
OR
Eggplant & Squash Ratatouille
w/ Fresh Basil Tomato Sauce
(Vegetarian)
w/Truffle infused Mashed Potatoes
& Fresh Fall Market Vegetables
*~*~*
Dessert
Chocolate Pot de Crème
w/Chocolate Pearl Confetti & Grand Marnier Cream
For More Information Contact:
Liz Miller, emiller@mbopera.ca, 204-942-0489
---
Safety Protocols:
Proof of Vaccination

Patrons will be required to show proof of full COVID-19 vaccination (two doses of a Health Canada-approved vaccine plus two weeks), as well as photo identification.

Mandatory Masks Indoors

Patrons, staff, artists, or anyone affiliated with a performance or performer will be required to wear a mask while inside Centennial Concert Hall with the following exceptions:

A health condition that prevents the use of a mask.
While consuming food or beverages.
While on stage performing.
For more information on Centennial Concert Hall protocols, visit mbccc.ca/re-opening/