Virtual Film Screening: Bel Canto
Grab some popcorn and settle in for movie day from the comfort of your home!
Free Screening: Bel Canto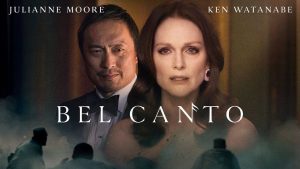 Saturday, February 6
Available for viewing on a computer, tablet, smartphone, or internet-connected TV any time between 12 midnight and 11:59 pm
Optional Zoom Discussion: 3 pm; led by Alison Gillmor, Winnipeg Free Press pop culture columnist
Plot: Released in 2018, this film is based on the best-selling novel by Ann Patchett.
Bel Canto is the dramatic love story that follows a famous American soprano (Julianne Moore with singing by Renée Fleming) who travels to a military dictatorship in South America to give a private concert at a party for a wealthy Japanese industrialist (Ken Watanabe) and is taken hostage along with the other guests.
Running Time: One hour, 40 minutes
Suggested for audiences 14A; contains scenes of violence
For More Info: smiller@mbopera.ca
Registration Deadline: Friday, February 5 , 12 noon
Registered participants will be sent an email on the afternoon of Friday, February 5 with login credentials and instructions for accessing the video and the Zoom discussion.
Please note: If you register online for this event, the automatically generated reply that you receive from our ticketing system will NOT contain login credentials or instructions for accessing the video. That information will be sent to your email address the afternoon of Friday, February 5.